Oh my gosh!, so next to jollof rice & waakye, fried rice is another favourite Ghanaian rice. It's loved so much that it is sold as street food. Today I am sharing with you my recipe for Tiger Prawns & Egg fried rice.
This recipe is just like take out, I have shared some tips, in the Youtube video, which will enable you to get this recipe as close as possible to your favourite Chinese takeaway.
I hope you and your family enjoy this recipe.
Tiger Prawns & Egg Fried Rice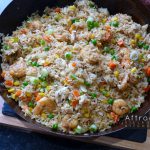 1 kg Rice
1 l of Boiling Water (Enough to cover)
1 tbsp Ghee
1 tbsp Aftrad Village Kitchen 10 Spice Blend
1 Medium Size Onion ( 50 – 100g), diced
1 Cup Carrots, chopped
1 Cup Frozen Peas
1 Cup Frozen Sweet Corn
3 Garlic Gloves, minced
25 kg Fresh Ginger, minced
2 Spring Onions, chopped
1 tbsp Chinese 5 Spice Blend
2 tbsp Oyster Sauce
2-4 tbsp Sesame Oil
5 eggs
1-2 Cups Uncooked Tiger Prawns
Salt
1 tbsp Aftrad Village Kitchen 10 Spice Blend
First off cook the rice by heating up the Ghee. Add 1 Tsp of Aftrad Village Kitchen's 10 Spice Blend and fry for about a minute just to release the oils and flavour.

Wash the rice in a colander, drain the water and add the rice to the ghee mix. Add salt to taste and mix well to incorporate. Cover and let the steam for about a minute to allow the flavours to infuse and coat the rice.

Add just enough boiling water to cover the rice, stir well, cover and cook on medium heat till all the water is soaked up by the rice.

Now, using parchment paper, cover the rice and add a bit of boiling water on the top of the parchment paper. Transfer the rice pot to a smaller burner and turn down the heat. Cook on a gentle heat until the rice is cooked, tender & firm to bite but not fluffy soft. Once cooked, turn off the heat, leave the pot uncovered to allow the rice to cool down. 

Now to season the prawns, add 1 Tsp of Aftrad Village Kitchen's 10 Spice Blend, 1 Tsp Chinese 5 Spice Blend, 1 Tsp of the mixed minced ginger and garlic,  1 Tbsp Oyster Sauce and 1 Tbsp Soy Sauce and mix well. Set aside to marinade for about 5 minutes.

Steam the frozen peas and sweet corn for about 5 minutes, just until it starts to soften up.

Heat up the wok, add insome sesame oil and then fry the prawns till it turns pink all round. Thisshould be for just about 3 minutes. Then remove from wok and set aside.

Reheat the wok and add somemore sesame oil to fry the eggs. Whisk the eggs with a splash of water. Fry theeggs in the wok, scrambling it into big chunks. Once cooked, remove from wokand set aside.

Reheat the wok and add some more sesame oil to sautee the onions, the rest of the garlic & ginger mince. Sautee till it just starts to soften up.

Add in the chopped carrots and sautee for about a minute, follow with some oyster sauce, then peas and sweet corn. Sautee for about a minute and then add in some soy sauce.

Now add in the cooled rice, add enough rice to your preference for veg/rice balance. Mix well to incorporate.

Now add in the tiger prawns and eggs. Mix well until well incorporated and warmed through. Turn off the heat.