These delicious crispy skin chicken thighs are just so easy to cook but fully packed with flavor. This is my go-to recipe for when I am looking for a barbecue kind of chicken but not in the mood to light up the barbecue grill.
I hope you enjoy this recipe.
Delicious Crispy Skin Chicken Thighs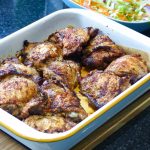 1 kg Chicken Thighs
Zest of 1 Medium Lemon
Juice of 1 Medium Lemon
1 tbsp AVK 10 Spice Blend
1 tbsp AVK 7 Spice Blend
1 tbsp Cayenne Powder
Salt to Taste
1 tbsp Olive Oil
In a bowl, zest and juice the whole lemon. Remove any seeds in the juice.

Add in Aftrad Village Kitchen's 10 Spice Blend, the pepper mix (cayenne pepper & Aftrad Village Kitchen 7 Spice Blend), the oil and salt to taste. Mix well until incorporated.

Add in the the chicken thighs and massage the spice mix really well into the chicken. Cover and allow it to season for at least 2 hours or overnight.

Heat up a griddle pan until hot. Place the chicken with the skin side down first. Let the chicken sear for about 3-5 minutes until it is charred on the edges. Turn the chicken and sear the other side as well.

Pre heat the oven to 180 degrees celsius.

Remove the chicken and place on a baking tray lined with parchment paper. Bake the chicken thighs for about 20 minutes or until cooked through.

Once cooked, remove and serve warm with a drizzle of the juices on the top.