If you have ever bought Waakye on the streets of Accra, you may have had the Waakye served in some green leaves. This green leaf is normally referred to as Waakye leaves and it is exactly the same leaves called Moimoi leaves by Nigerians. The actual botanical name for this Waakye leaves is Thaumatococcus Danielli. This leaf has a distinctive flavour and aroma which gets infused into the Waakye when the Waakye is served on it. This flavour adds to the authenticity of street Waakye.
So imagine steaming your Waakye with this Thaumatococcus Danielli! Yes! yes! yes! You will end up with the Waakye being infused with this desirable flavour and aroma. This is the best Waakye recipe I have created to date. It is definitely a must try recipe.
Authentic & Flavourful Ghanaian Waakye Recipe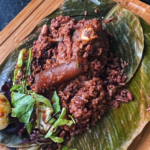 2 Cups Black-eye Beans
3 Cups Jasmine Rice
2 Tsp Bicarbonate of Soda
1 400g Coconut Milk
8 stalks Millet Leaves
2 pieces Scotch Bonnet Pepper
6 Cups Boiling Water
Salt to taste
2-3 Waakye Leaves (thaumatococus Danielli)
Wash beans in a colander to drain all the water.

Add beans into cooking pot and add 4 cups of boiling water.

Add 1 Tsp of bicarbonate of soda.

Tie the millet leaves together and add it into the pot.

Cover pot and cook beans until beans can split when pressed between the fingers.

Now add in the coconut milk, 2 cups boiling water, washed rice, 1 tsp bicarbonate of soda, pepper and salt to taste. Cover and allow to boil till the water absorbs into the Waakye.

Now turn down the heat and cover the Waakye with the Waakye leaves to steam the Waakye to perfection.

Cook Waakye on a gentle heat until it is cooked to perfection.
Extra Tips:
If a softer Waakye is preferred, add a bit of boiling water on top of the Waakye leaves to help generate more steam to soften the Waakye.

Taste Waakye before adding salt to taste as bicarbonate of soda is a bit salty