Palava Sauce is another Ghanaian stew which is well loved. It is basically Agushie stew which has gone the extra mile with some cocoyam leaves (kontomire) added to it. The balance from the high protein from the Agushie and the green cocoyam leaves makes this stew nutritionally delicious. It a perfect vegan dish if cooked without the extra protein.
The recipe, I am sharing today replaces the cocoyam leaves with baby Spinach. It works very well and taste wise very similar. You can also use Spinach or any other greens, they work well too.
Palava Sauce pairs well with boiled ripe and unripe plantains, boiled fluffy rice, boiled yam or cocoyam, eba or even kenkey. It is such a versatile sauce to prep for a weekday meal.
The Best Ghanaian Palava Sauce Recipe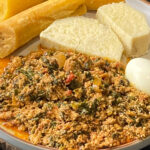 240 g Ground Agushie
400 g Plum Tomatoes
30 g Anchovies in Oil
300 ml Palm Oil
1 Medium White Onion
1 kg Fresh Baby Spinach
3 Tbsp Green Seasoning( Onions, Garlic, Ginger, Pepper & herbs)
1 Tsp 7 Spice Blend
2 Tsp 10 Spice Blend
1 large Grilled Mackerel
Salt to Taste
1 Tbsp Shrimp Powder
Boiled Eggs (optional)
Heat up the Palm Oil. Add in the onions, anchovies including the oil, green seasoning and 7 spice blend. Saute for about 3 minutes or until the onions start to soften.

Add in the plum tomatoes, break the tomatoes down using a spoon or scissors. Cook on medium heat until the tomatoes has stewed beautifully.

Add in the 7 Spice Blend and cook for about 2 minutes.

In a bowl, add the ground Agushie, add some salt and enough tap water to mix into a thick paste.

Add in the Agushie paste in dollops. Cover the pot and allow the Agushie to steam for about 3 minutes.

Stir the Agushie gently, spreading it out to ensure it fries evenly. Cover the pot and let the Agushie cook on a gentle heat for about 5 minutes or until it does not taste raw.

Add in the shrimp powder, grilled mackerel, followed by the chopped spinach, enough to give a good balance as preferred.

Allow to steam for some couple of minutes and then correct seasoning with salt if needed.