This Tuna, Cabbage and Agushie Stew is so simple and quick to make yet very delicious. Agushie is a melon kind of seeds which is packed with a lot of  protein, good fats and other vital nutrient
s. Agushie or Egusi as some will call it is used in West African sauces and soups. In Ghana, it forms the sauce base for Palava Sauce which is quite similar to the Nigerian Egusi Soup.
This stew which I am sharing with you today, is a step down from preparing Palava Sauce. Unlike the Palava Sauce which cocoyam leaves is added, in this stew cabbage is added instead. Tuna is also added for the extra protein and flavour.  Feel free to substitute the Tuna with any kind of protein or totally eliminate it for a vegan option.
Agushie stew pairs well with boiled ripe and unripe plantains, boiled fluffy rice, boiled yam or cocoyam, eba or even kenkey. It is such a versatile sauce to prep for a weekday meal.
Tuna, Cabbage & Agushie Stew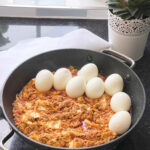 240 g Ground Agushie
400 g Plum Tomatoes
30 g Anchovies in Oil
300 ml Palm Oil
2 x 102 g Canned Tuna
1 cup Julienned White Onions
3 Tbsp Green Seasoning( Onions, Garlic, Ginger, Pepper & herbs)
1 Tsp 7 Spice Blend
2 Tsp 10 Spice Blend (and extra for Cabbage)
1 Tsp Pepper Mix for Kelewele
1/2 Cup Chopped Cabbage
Salt to Taste
Boiled Eggs (optional)
Heat up the Palm Oil. Add in the onions, anchovies including the oil and green seasoning. Saute for about 3 minutes or until the onions start to soften.

Add in the plum tomatoes, the 7 & 10 Spice Blend, and the pepper mix.

Break the tomatoes down using a spoon or scissors. Cook on medium heat until the tomatoes has stewed beautifully.

In a bowl, add the ground Agushie, add some salt and enough boiling water to mix into a slurry paste.

Once the tomatoes have stewed beautifully, season lightly with salt. Turn up the heat and then add in the Agushie slurry. Cover the pot and allow the Agushie to steam for about 3 minutes.

Stir the Agushie gently, spreading it out to ensure it fries evenly. Cover the pot and let the Agushie cook on a gentle heat for about 5 minutes or until it does not taste raw.

Add in the chopped cabbage. Add as much as you prefer. Season the cabbage with some 10 Spice Blend, cover the pot and allow the cabbage to steam for 2 minutes. Then mix the cabbage into the stew.

Add in the Tuna or your protein of choice. Stir into the stew and allow the flavour to marry for about 3 minutes. Correct seasoning with salt if needed.