Let's cook, this Steak and serve it with some herby potatoes & veggies in the sauce. This is such a hearty delicious meal that  can be served for lunch or dinner.
Find the ingredient list for the herby potatoes and veggies in sauce on the youtube channel.
Delicious Pork Shoulder Steak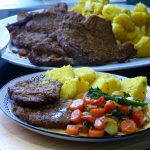 1 kg Pork Shoulder Steak
1 tbsp Aftrad Village Kitchen 7 Spice Blend
2 tbsp Aftrad Village Kitchen 10 Spice Blend
2 tbsp Aftrad Village Kitchen Kebab Powder
1 tbsp Salt or to taste
3 tbsp Olive Oil
Place all the spices in a bowl and add in the oil. Mix to form a paste.

Place the steak in the marinade and massage marinade into the steak.

Cover and let it marinate for a couple of hours or overnight in the fridge.

If refrigerated, remove the steak and let it come to room temperature.

Preheat the oven or air fryer as per instructions. Cook the steak on the steak function until well done or to preferred doneness.

Serve steak warm.